Prusa Research in press
FORBES - PRUSA FACE SHIELDS
This Czech Company Guides Global 3-D Printing Pandemic Response
'In three days, Founder Josef Prusa and his team at Prusa Research designed, prototyped, verified, and began mass production of medical-appropriate face shields.'
INTERVIEW WITH JOSEF PRUSA
Unboxing Josef Prusa: Meet the Living Legend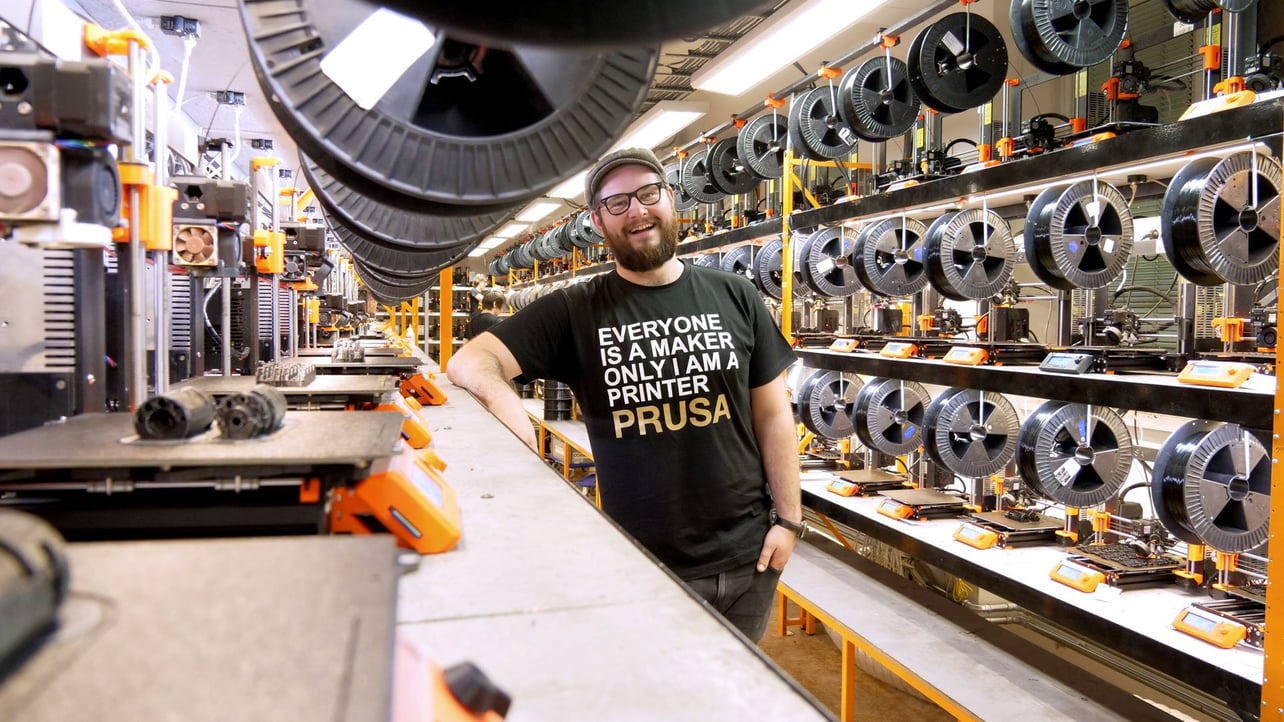 'Who is this Mr. Prusa and how did he manage to create one of the biggest 3D printer brands in the world?'
MAKER FAIRE ONLINE
Virtual Maker Faire Prague 2020 exceeded expectations with interest
'Finally, the online version offered two more than three-hour blocks that combined live streams from workshops, pre-recorded macro videos, and even several live broadcasts from both the open PrusaLab workshop and the Bratronic missile base'
STORY BY SIFTED.EU
How Czech startup Prusa Research hit 17,122% revenue growth
'3D printer manufacturer Prusa Research's rapid expansion highlights the importance of engaging with your community'
INTERVIEW IN TCT MAGAZINE
Josef Prusa on makers, breaking records and avoiding hype
'What do you get when you combine a 3D printer farm, 16 tonnes of Haribo Bears, and the ethos of the Rep Rap project?'
E&T ABOUT PRUSA RESEARCH
Prusa has democratised the technology by price and ease of use.
'We meet six young innovators who are leading the way in using their skills and talent to shape the future of technology.'
MIT Innovators Under 35
Prusa featured in the Computer and Electronics Hardware category
'[Josef Prusa's] simplification of the design of traditional 3D printers has democratised the technology so that anyone can use it.'
JOSEF IN FORBES' 30 UNDER 30
Seizing the moment of a personalized digital revolution
Josef Prusa has been featured as one of the '30 under 30' - most influental people in the field of technology.
Deloitte Report
PRUSA Growing Faster than 497 Firms in the EMEA Region
Three Questions for Josef Průša, Father of 3D Printing (Not Only) in the Czech Republic
3D Printing Industry
Interview with CEO and founder of Prusa Research, Josef Prusa
'Josef explained me that the company managed to grow without any sales team. Word of mouth has been enough to bring the sales to 500 units per month in May 2016.'
Forbes: To the top of Global charts
Prusa's 3D printer is the best in the world
'Another world-class success for Prusa Research (...) the company's 3D printers are now the best in the world according to the prestigious Make: magazine.'
All3DP Visits Prusa
New Prusa Research facility and interview with Josef
After taking a full-fledged tour of Prusa Research's new home, All3DP talked to the 3D printing kingpin Josef Prusa about the growing success of his company, their new facility, the future of FDM 3D printing, and more.