Original Prusa MK4 3D Printer kit
The MK4 is the latest edition of our flagship 3D printing workhorse. It combines the reliability and safety features of its predecessors with high-speed performance enabled by Input Shaper support. It brings plenty of new features like a perfect smooth first layer thanks to the Loadcell sensor (no manual adjustments needed), remote printing, quick-swap nozzles, customizable UI with a one-click printing option, and much more.
The MK4 will consistently deliver a perfect smooth first layer thanks to the Loadcell sensor (no manual adjustments needed). The next-gen extruder (Nextruder) and 32-bit connected platform provide many quality-of-life improvements like remote printing, quick-swap nozzles, and customizable UI with a one-click printing option.
Smooth PEI print sheet included.
By purchasing the MK4 Kit, you also gain a
5% discount on selected filaments
.
Alternatively, you can buy an assembled printer with complete warranty.
Original Prusa MK4 3D Printer
MK4s have an estimated leadtime of 3-4 weeks
Original Prusa MK4 is built around our new 32-bit connected architecture and the next-generation extruder (Nextruder). It lays down a perfect first layer every time without Live Adjust Z and it has support for high-speed printing with Input Shaper and Pressure Advance. We also improved the safety features even further. Plus, there are a ton of useful things, such as quick-swap nozzles, built-in support for remote printing and webcams, and many more. And it's still beautifully quiet.
The successor to the award-winning 3D printing workhorse Original Prusa MK3
Effortlessly fast and silent 3D printing. Check out the sub-20 minutes Benchy video on MK4! 
Fully automatic first layer calibration thanks to the Load Cell sensor
Perfect first layer without hassle - no print sheets profiles, no tinkering, no Live Adjust Z!
Nextruder – our new extruder with a custom breakout board and smart features
Safety features like filament sensor and power panic that won't let you down
Easy maintenance, quick-swap nozzles, and removable print sheets
Support for a wide range of materials, incl. PLA, PETG, Flex, Nylon, ASA, PVA, PC, PP, composites and more
Color LCD screen with simple-to-navigate UI and quick access to all important functions
Ethernet and Wi-fi connection
Made in the EU, hassle-free warranty, 24/7 live chat support
Open-source
Check out the announcement article!
Winter holidays are just around the corner! If you decided to buy one of our 3D printers for someone else and you're not sure if the package is going to make it in time, you can download and print one of our gift cards. Add a personal message and give them the card to let them know their 3D printer is on its way!
Main Features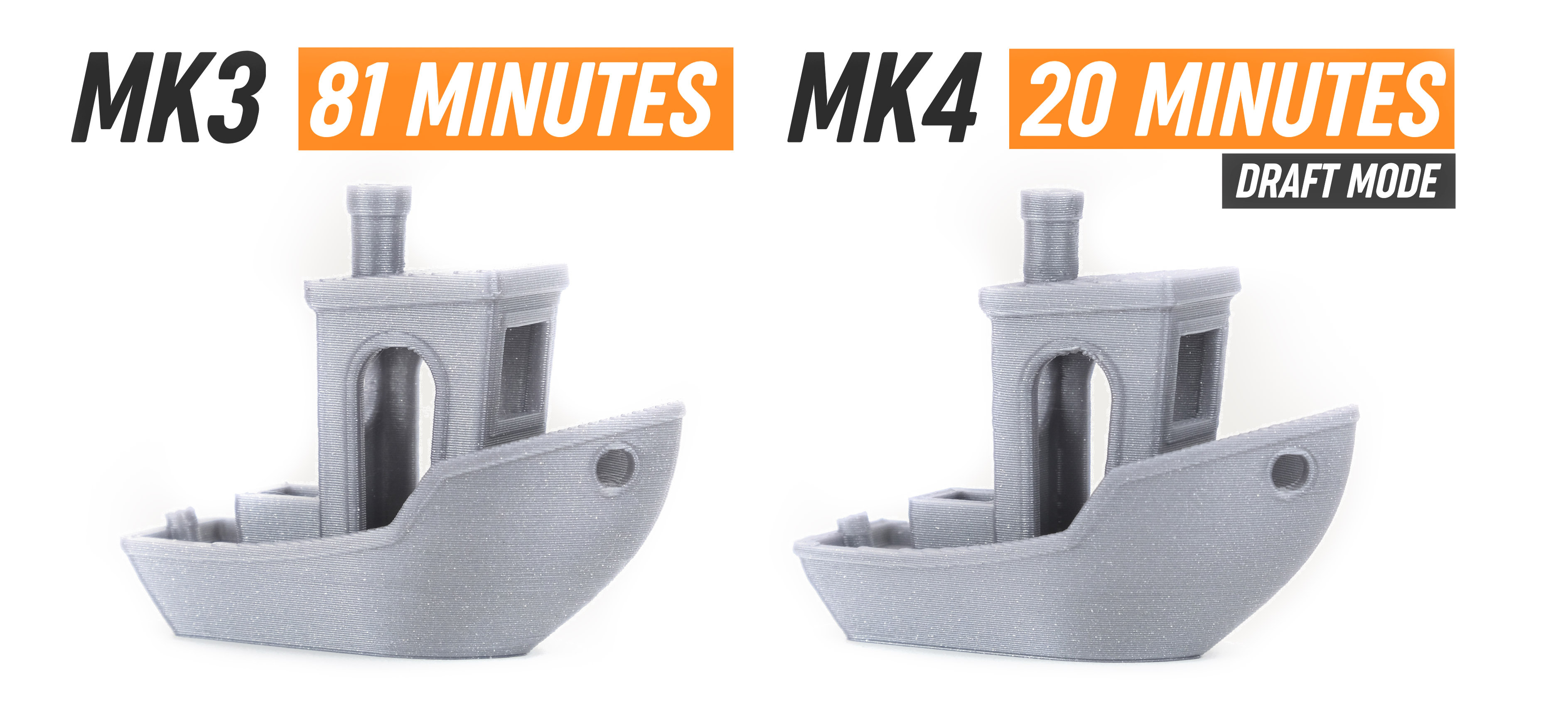 High-speed printing with ease
Thanks to our own implementation of Input Shaper and Pressure Advance technologies in the MK4's firmware, the printer can eliminate resonance in prints and predict the flow of the filament. The result is a decrease in print time by up to 70% compared to MK3. What's more, the printer is very quiet even at these speeds - check out the sub-20-minute Benchy video. Support for high-speed printing is just around the corner via a firmware update - read the blog post here.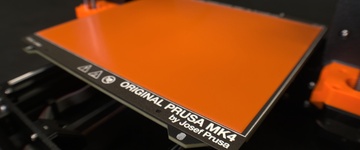 Perfect First Layer Out of the Box
Thanks to the precise Loadcell sensor, MK4 can lay down a perfectly smooth and consistent first layer automatically without any user input. At the beginning of a print, the printer taps the sheet with the nozzle in a grid-like pattern to measure the distance and then calculates the correct offsets. The result is a perfect first layer on every surface, without manual adjustments.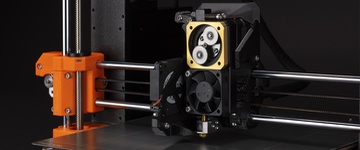 The Nextruder with Breakout Board
Extruder is the heart of every 3D printer. And this is a special one. On most 3D printers today, replacing extruder components is a rather complicated process. With the new connector break-out board inside the Nextruder, all of the parts, such as fans, heaters, thermistors, etc., are connected directly there. If you need to swap anything, it takes just a minute.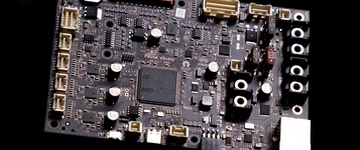 32-bit xBuddy Mainboard
Our new xBuddy board is a 32-bit STM32-powered mainboard with many great features. It has several unique hardware-based safety protection systems, communicates with four thermistors, has all important ports (Ethernet, Wi-Fi, works with USB-A flash drives) and more. The entire board was designed, manufactured, and tested in-house.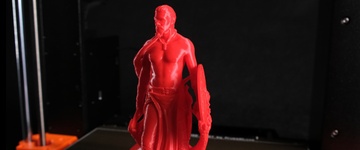 Exceptional Print quality
The MK4 comes with redesigned, more robust plastic parts and new precise 0.9° stepper motors (0.9° / step; low inductance) on the X and Y axes that help eliminate Vertical Fine Artifacts on prints. Plus, there are thicker 10mm rods on the Z-axis. The result is, that prints look better than ever and even printing with "problematic" filaments like Flex is a breeze.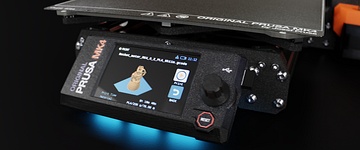 Color LCD screen and simple UI
MK4's display supports G-code thumbnails, QR codes and other elements that make using the printer so much easier. We also redesigned many of the existing menus and added a customizable footer panel. Directly under the LCD, there is an RGB status bar to signalize the current status of the printer. Next to the LCD, there's a USB-A port for standard USB flash drives.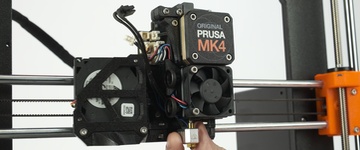 Quick-Swap Nozzles
Thanks to two quick-release thumbscrews on the side of the body of Nextruder, which holds the nozzle in place, you can swap nozzles easier than ever. The MK4 is using special nozzles with an all-metal filament guide (no PTFE tubes anywhere), which improves the overall reliability of the printer. Simple Nextruder-to-V6 adapter is available.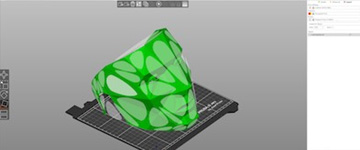 Slice with PrusaSlicer
Our internally developed multiplatform slicer comes with in-house made and fully tested profiles for all of our 3D printers and a wide range of filaments. With built-in tools, such as organic supports, cutting, automated object distribution, ironing and many others, you will turn your 3D models into print files in no time!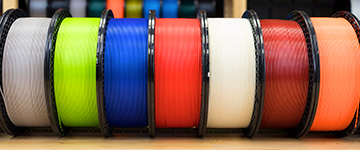 Support for a wide range of Materials
The MK4 is fully compatible with a wide range of various types of materials. No matter whether you want to print something for fun from PLA and flexible materials, or you need to produce durable prototypes from PETG, ASA, Polycarbonate and Polypropylene - the MK4 can handle them without any problem.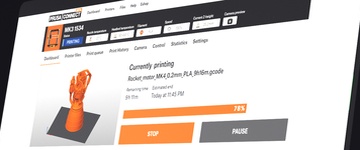 Prusa Connect and Connectivity Options
MK4 is, along our other 3D printers, fully supported by Prusa Connect, which allows you to control the printer via internet. You can drag-and-drop G-Codes into the browser window to upload print files first into the cloud (each user gets 1 GB for free) and then transfer it into the printer's USB storage and start the print remotely. All communication is encrypted.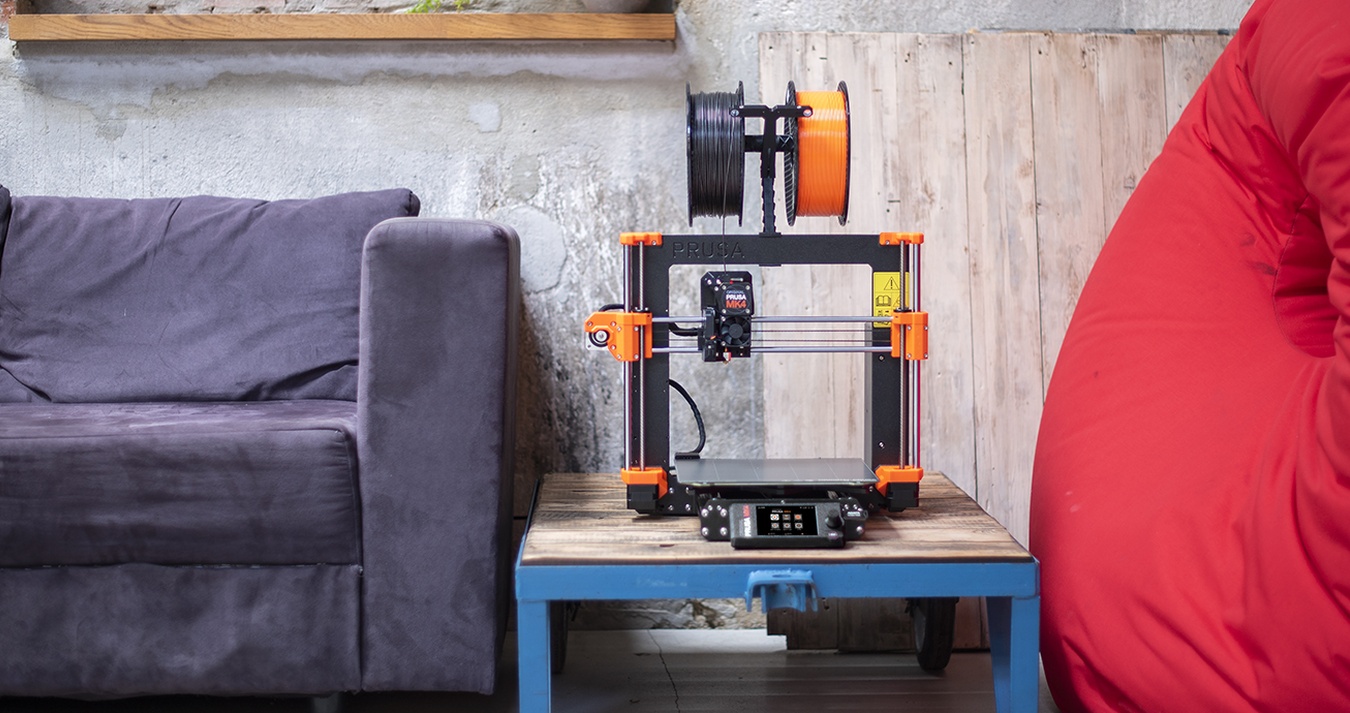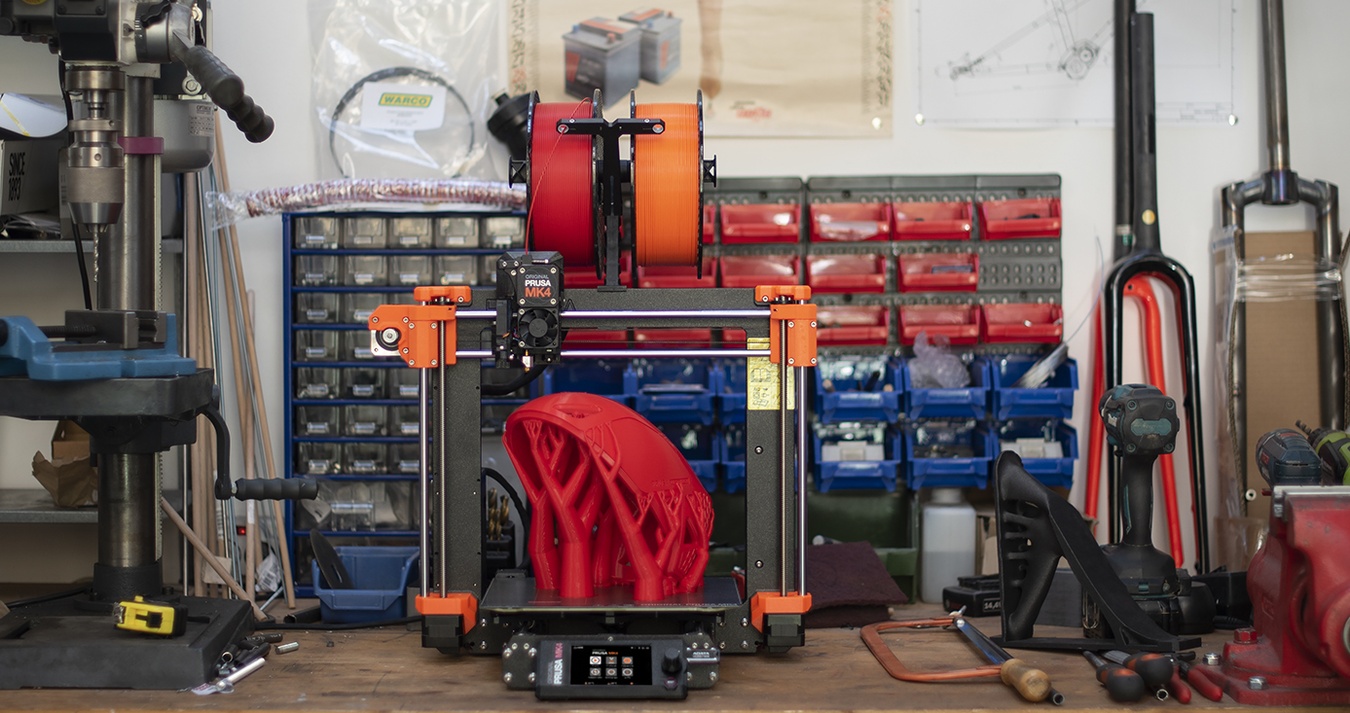 Hobbies
Whether you're maker, cosplayer, pop-culture fan, gamer, modeller or board-game player, MK4 can open up new possibilities for you.
On Printables.com, you can share your designs and makes with others or download 3D models for free. Join us!
Manufacturing
Original Prusa 3D printers are used in industries worldwide as efficient, easy-to-use, and reliable 3D printing workhorses.
Our cost-effective solution with simple maintenance is a perfect choice for everyone - from start-ups to the large international companies!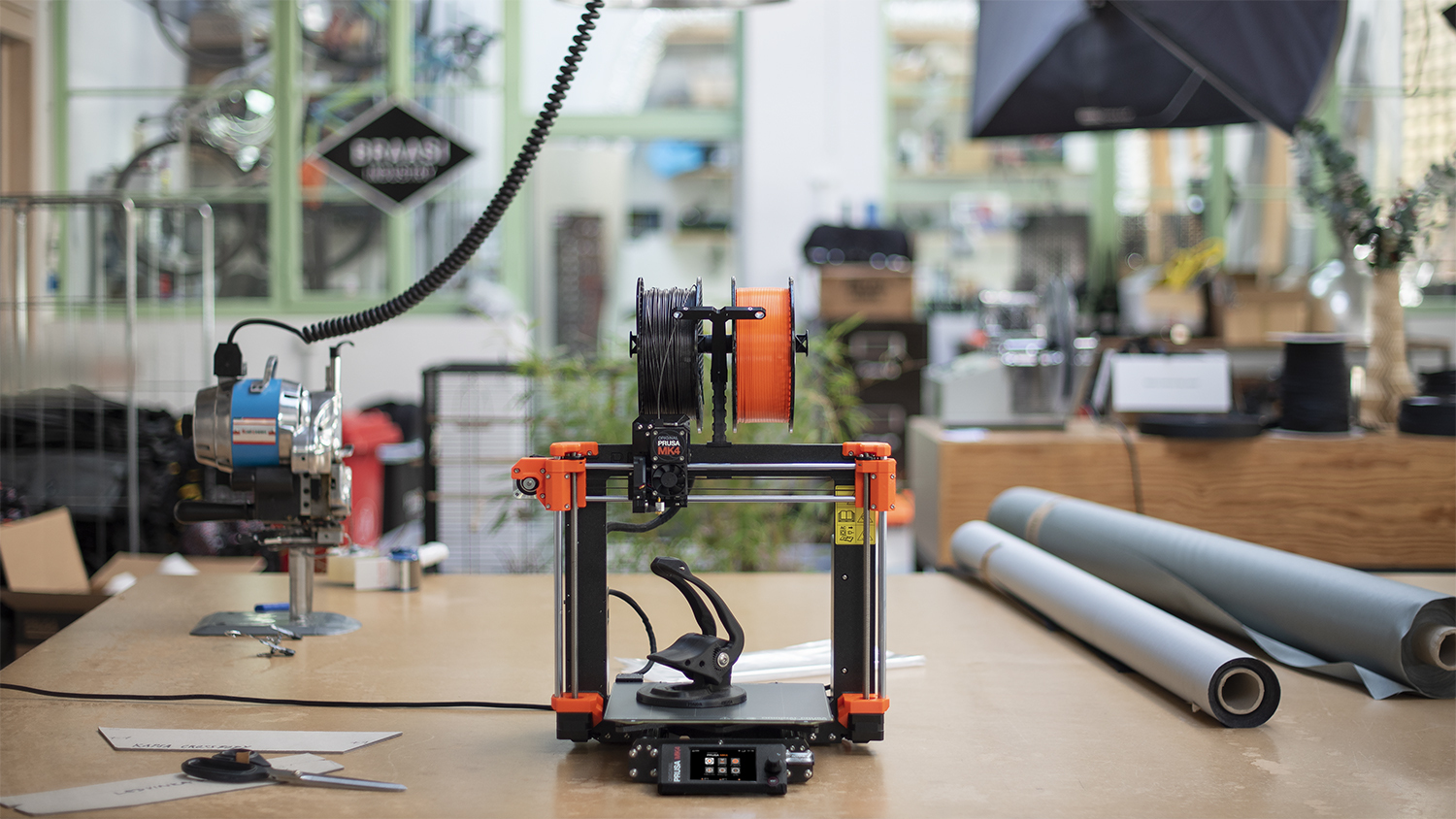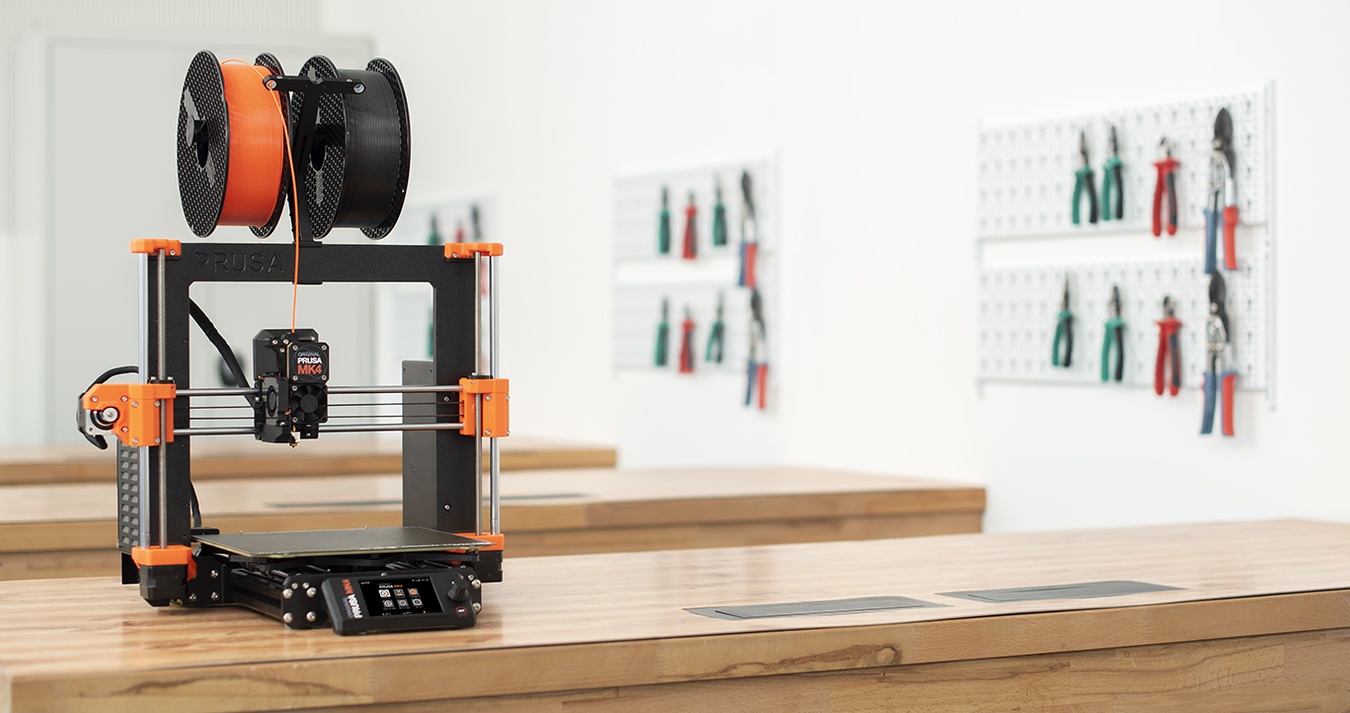 Education
Join the tens of thousands of schools, universities, and other educational institutions worldwide that have adopted 3D printing! Explore the vast possibilities of this essential, state-of-the-art technology.
Read more case studies and examples of usage of the Original Prusa printers in education.
Architecture & Design
A quick and affordable way to create refined models with intricate detail. Free up the time of your skilled designers and let the 3D printers do the hard work.
Check out the videos and articles about leading designers and artists using our 3D printers in their work.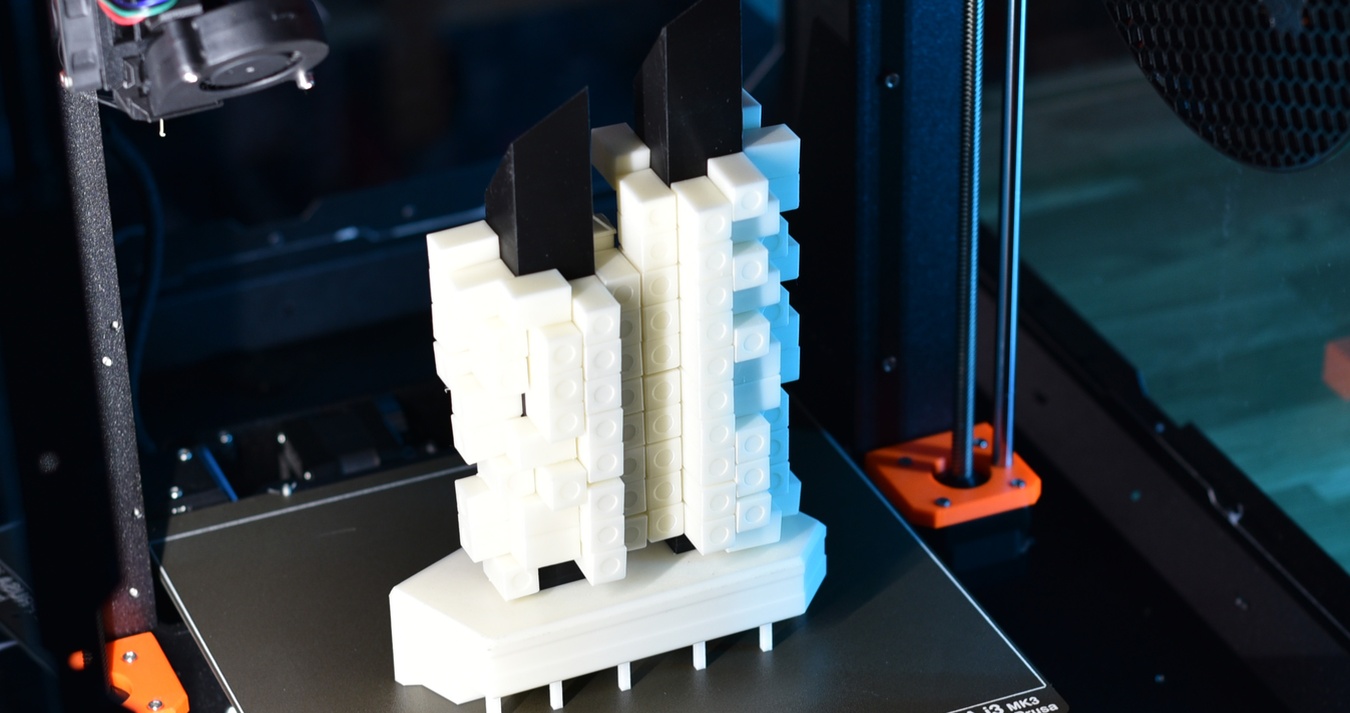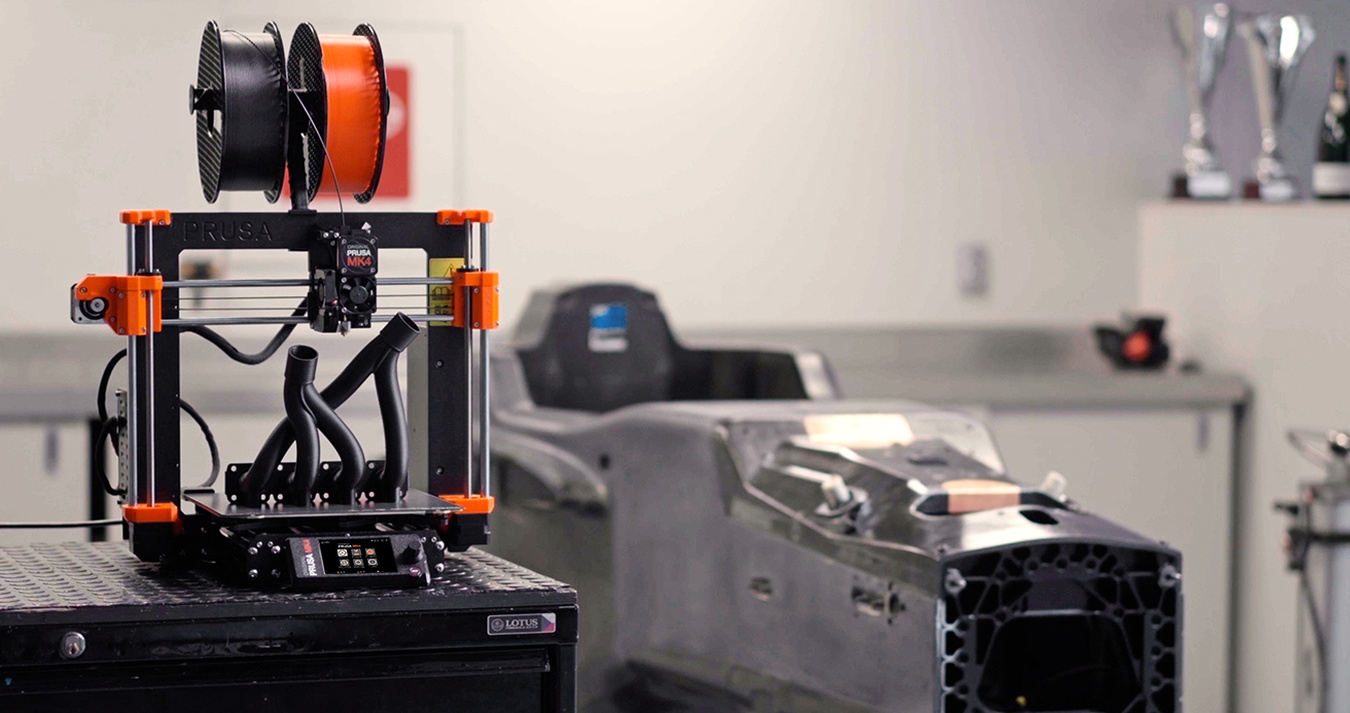 Automotive
Modern-day automotive industry faces many challenges - from disrupted supply chains to rapid technology development and constant changes. 3D printing brings the necessary efficiency and flexibility.
Here are examples of where our 3D printers helped with the production and prototyping in the automotive industry.
Technical Parameters
| | |
| --- | --- |
| Build Volume | 250 x 210 x 220 mm | 9.84 x 8.3 x 8.6 in |
| Filament diameter | 1.75 mm |
| Layer height | 0.05-0.30 mm |
| Mainboard | Custom 32-bit xBuddy electronics with STM32 |
| Stepper Drivers | Trinamic 2130 |
| Stepper motors | Precise 0.9° X,Y stepper motors (prevents VFA) |
| Extruder | Nextruder, Direct Drive, E3D V6 compatible (with adapter) |
| Extruder electronics | Custom breakout board for connecting fans, thermistors and other parts. |
| Filament path | Aluminum heatsink, all-metal hotend |
| Drive system | Nextruder Planetary Gear System, 10:1 gearbox ratio |
| Nozzle diameter | 0.4mm (default) / other nozzle diameters supported |
| Max nozzle temperature | 290 °C / 554 °F |
| Max heatbed temperature | 120 °C / 248 °F |
| LCD screen | 3.5″ graphic 65k color screen |
| Connectivity | Optional ESP Wi-Fi module (delivered with the printer) |
| Print medium | USB drive / LAN / internet via Prusa Connect |
| Advanced sensors | Filament sensor, Loadcell sensor, Power panic, 4 high-precision thermistors (genuine Semitec) + fan motors RPM monitoring |
| Print surface | Magnetic heatbed with removable PEI spring steel sheets |
| Bed calibration | Automatic, Mesh Bed Leveling (only on print area) |
| Supported materials | PLA, PETG, ABS, ASA, Flex, HIPS, PA, PVA, PC, PP, CPE, PVB, NGEN, composites and more |
| Printer dimensions (without spool) | 7 kg, 500×550×400 mm; 19.6×21.6×15.7 in (X×Y×Z) |
| PSU | 240W, custom made by Delta with Power Panic HW |
| Power consumption | PLA settings: 80W / ABS settings: 120W |
* Consumable parts, such as print sheets (smooth, textured, etc.), are not covered by the warranty since their coatings are expected to deteriorate over time, unless the failure is due to a defect in materials or workmanship. Cosmetic damage, which includes, but is not limited to, scratches, dents, cracks, or other aesthetic damage, is also not covered. Only sheets defective upon delivery are covered by the warranty.
Basic package includes:
Original Prusa MK4 kit 3D printer
Double-sided Smooth PEI Print Sheet
Free sample of Prusament PLA ~ 2x25 g
3D Printing Handbook
USB drive with sample prints (G-codes)
Toolset: Uni-wrench, 13-16 wrench, Philips screwdriver, Nose pliers, Allen and torx keys
Alcohol-saturated wipes, acupuncture needle
Spoolholder
Spare parts package
Prusa lubricant for bearings
A pack of Haribo gummy bears
Manufacturing protocol
Add-ons
Ready for multi-color printing with MMU3
MK4 can be enhanced by an optional add-on that allows your single-extruder printer to print with up to 5 colors (materials) at the same time. The MMU3 contains five filament insertion points. Load the five colors of your choice, slice the object with MMU3 profile in PrusaSlicer and start the print. The system automatically selects filament using the selector, loads it into the Nextruder and the MK4 starts printing. When it's time to change the color or material, it also happens automatically.
The MMU3 is the latest edition of Multi Material printing device by Prusa Research. The firmware has been rewritten completely, we have redesigned the plastic parts, added more robust metal parts, improved the electronics and updated the filament buffer. All of these changes have improved the reliability and user comfort to levels where MMU has never been before.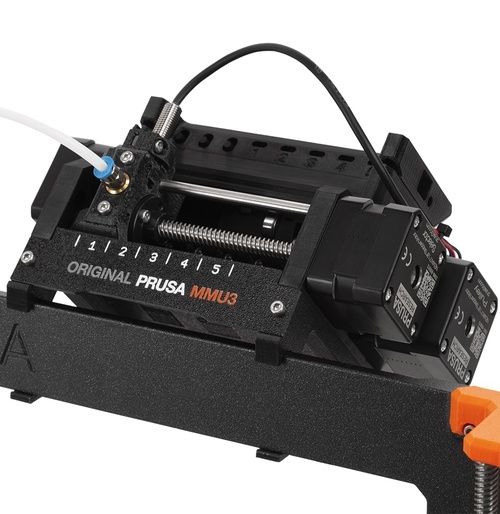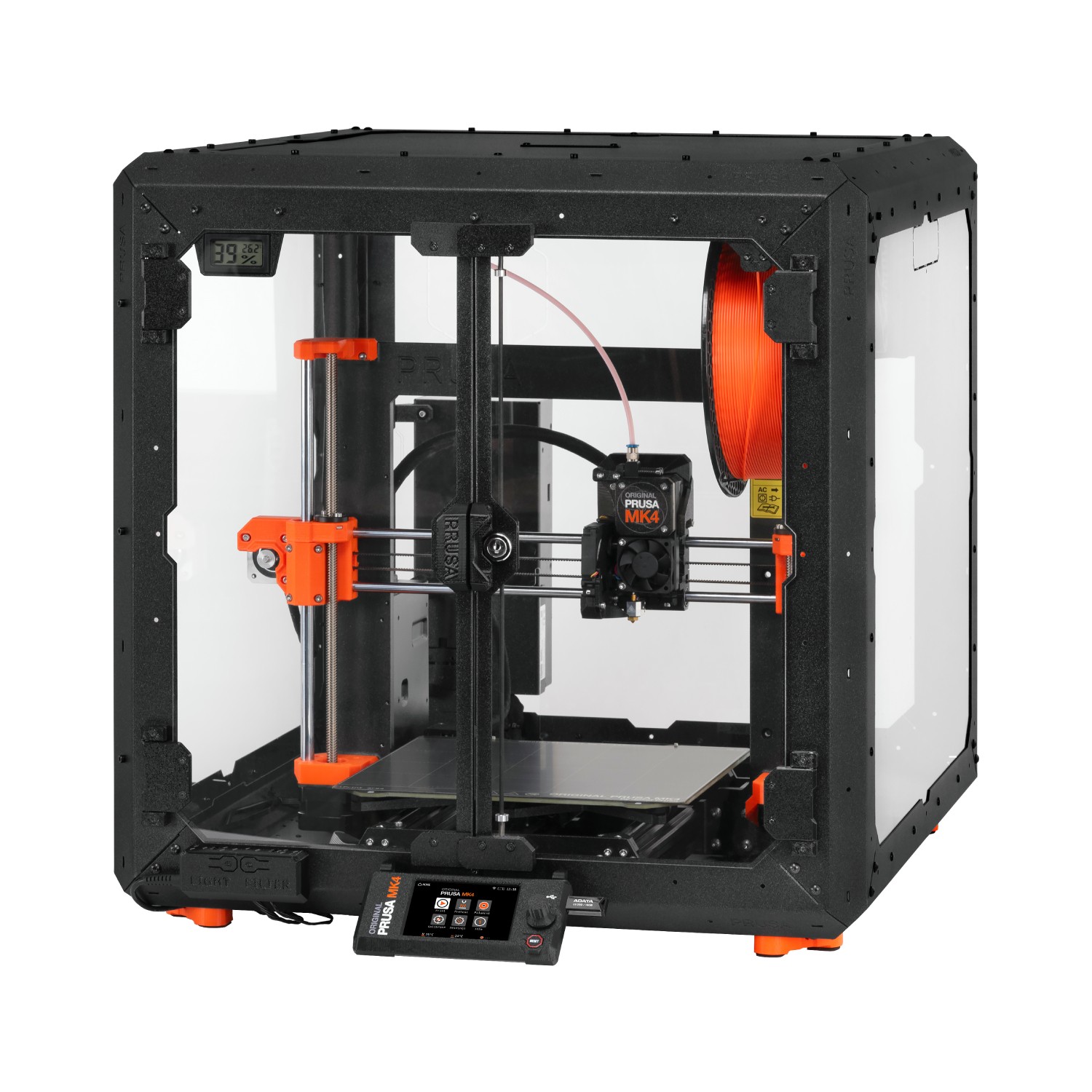 MK4 is *fully compatible with the Original Prusa Enclosure. If you want to print more advanced technical materials on your MK4, you'll find the Enclosure really handy. It stabilizes the printer environment, eliminates drafts and odors, and makes the printer even more silent.
The Enclosure is available with a range of useful add-ons, such as a filtration system, locking mechanism and more - check out the announcement article and the Enclosure section on our e-shop. 

*PSU Cable Quick-release for the Original Prusa MK4 coming soon.
Reviews
The Seller does not verify whether the published reviews come from consumers who have actually used or purchased the products or digital content or service. Reviews are provided by registered PRUSA ACCOUNT users.
---
Online Assembly Manual, Power Cable (US), Handbook (EN) (change)
MK4 kits have an estimated leadtime of 5-6 weeks (shipping after holidays).