Design Principles for 3D Printed Parts
In this course, we will teach you how to make your designs easier to print, look better, require less post-processing, and be stronger where it matters. All the tips and tricks are relevant for almost any 3D printer brand or model. Please note that this course assumes you already have at least a basic 3D modeling skill in the CAD software of your choice. If you're just starting and want to use the software that's featured in this course, we suggest the official Fusion 360 tutorials.
In a moment after the purchase, you will get a confirmation email with a link. No extra registration is needed - you are already logged in with your Prusa Account credentials. The whole content of each course is unlocked right from the beginning. Please note that you cannot mix virtual products and normal e-shop items in one order.
Virtual product
Created in collaboration with Joseph Casha of the Breaks'n'Makes Youtube channel.
The course follows this simple path:
First, we take a look at various 3D printing problems and limitations, such as overhangs, warping, or printing tolerances.
Secondly, we show how to take these issues into consideration when 3D modeling and make your designs both better looking and more functional.
Approximate total time: 2 hours
Certificate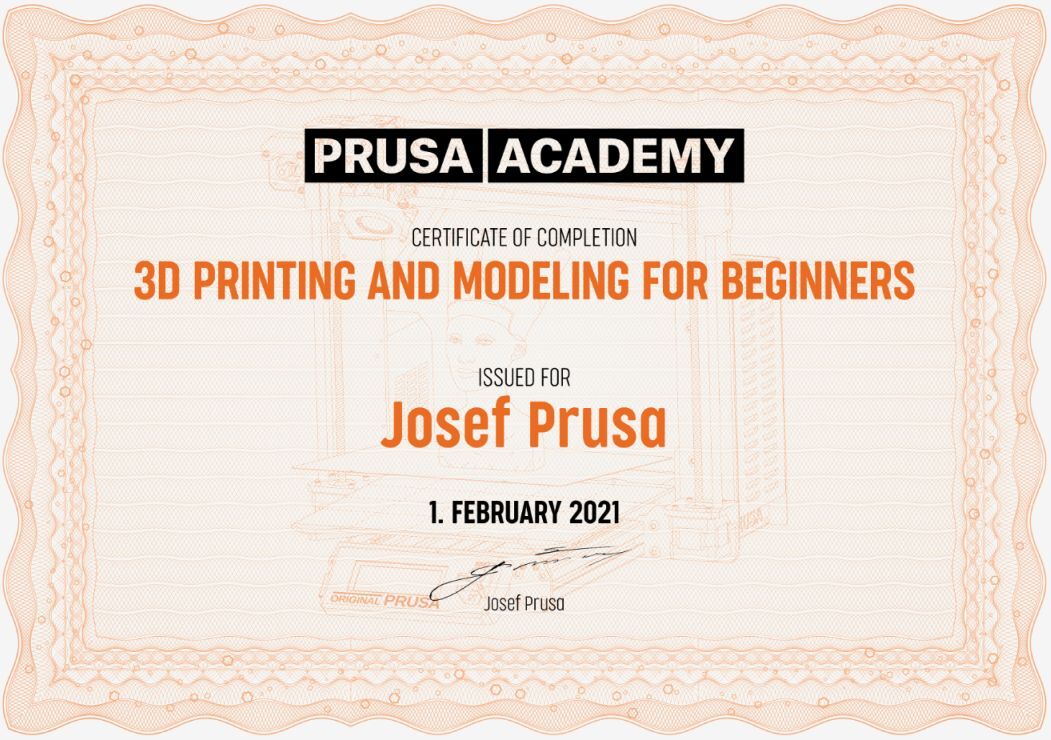 Each course contains quizzes to help you check your newly gained knowledge along the way. If you pass them all successfully, you will get a nice certificate with your name. Enjoy all the prestige, bragging rights, and new job opportunities that come with it! 🙂
Reviews
I think it would be a good idea, if there was the possibility that this tutorial, explained with Fusion 360 (payment proprietary software) , also offer them for Freecad (open-source ) https://www.freecadweb.org/Thanks for your great work
Unfortunately, I guess I expected more. And the worst thing was when the phrase "something went wrong" kept popping up. The quiz got stuck in the scoring and kicked me right out of the course... Great for beginners, everything is clearly described.
Schwankl Nicholas3 months ago
While maybe not worth $10 for more experienced users, this course has clear and well presented visualizations of most advanced CAD techniques I use daily when designing for FFF 3D printers. There are a few variants missing (print base slicing for reduced warp comes to mind) and some formulas and methods are a bit basic, but as a starting point it's hard to beat. I do hope free or reduced cost access will be granted to schools and educational institutions in the future.